I have a shared tensor used in different epochs, so I need to shared_tensor = tensor(require_grad).detach() , or I have to set loss.background( retain_graph=True ) because of the dependency of the shared_tensor. When I set retain_graph=True, the graph will grow during training.
The problem is that the one part in loss is based on the shared _tensor. For example, Loss = loss_a + loss_b, loss_b is from the shared_tensor, but since shared_tensor requires no grad (from tensor.detach() ), loss_b cannot be used to update the network in back propagation, right?
How to fix it? What's the correct way to save the shared_tensor and calculate related loss?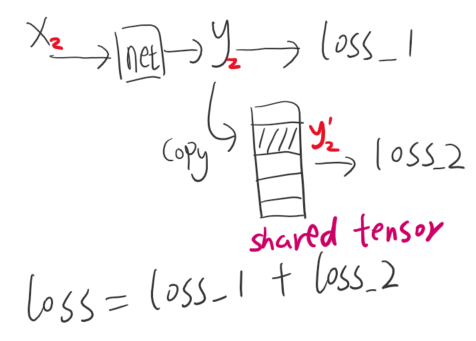 code:
yi=modelA(xi)
loss_1 = L1(yi,0)
yi' = yi (by detach() or clone())
loss_2 = L1(torch.op([y1', y2'…]))
loss = loss_1 + loss_2
loss.backward()