Hi all,
I'm new to this forum and PyTorch in general. I've been trying to train a CNN model to do a binary image classification task. The accuracy results seem good but the loss is all over the place and I have no idea what I'm doing wrong.
I have 68538 training images and 32809 testing images available.
Any advice/suggestions would be much appreciated.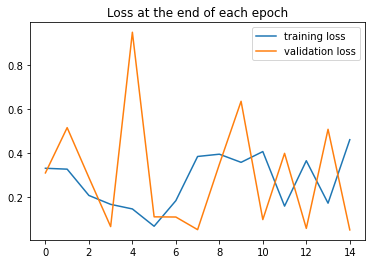 import torch
import torch.nn as nn
import torch.nn.functional as F
import torch.optim as optim
from torch.utils.data import DataLoader
from torchvision import datasets, transforms, models
from torchvision.utils import make_grid
import os
import copy

import numpy as np
import pandas as pd
import matplotlib.pyplot as plt
%matplotlib inline

device = torch.device("cuda" if torch.cuda.is_available() else "cpu")
if torch.cuda.device_count() > 0:
    print("Running on : ", torch.cuda.device_count(), " GPUs!"
          if torch.cuda.device_count() > 1 else " GPU!")
else:
    print("Running on CPU!")

train_transform = transforms.Compose([
        transforms.RandomRotation(359),
        transforms.RandomHorizontalFlip(),
        transforms.RandomVerticalFlip(),
        transforms.Resize(224),
        transforms.CenterCrop(224),
        transforms.ToTensor(),
        transforms.Normalize([0.485, 0.456, 0.406],
                             [0.229, 0.224, 0.225])
    ])

test_transform = transforms.Compose([
        transforms.Resize(224),
        transforms.CenterCrop(224),
        transforms.ToTensor(),
        transforms.Normalize([0.485, 0.456, 0.406],
                             [0.229, 0.224, 0.225])
    ])

root = 'C:/Concrete2'

train_data = datasets.ImageFolder(os.path.join(root, 'train'), transform=train_transform)
test_data = datasets.ImageFolder(os.path.join(root, 'test'), transform=test_transform)

torch.manual_seed(283)
train_loader = DataLoader(train_data, batch_size=50, shuffle=True, pin_memory=True)
test_loader = DataLoader(test_data, batch_size=50, shuffle=True, pin_memory=True)

class ConvolutionalNetwork(nn.Module):
    def __init__(self):
        super().__init__()
        self.conv1 = nn.Conv2d(3, 6, 3, 1)
        self.conv2 = nn.Conv2d(6, 16, 3, 1)
        self.fc1 = nn.Linear(54*54*16, 120)
        self.fc2 = nn.Linear(120, 84)
        self.fc3 = nn.Linear(84, 2)

    def forward(self, X):
        X = F.relu(self.conv1(X))
        X = F.max_pool2d(X, 2, 2)
        X = F.relu(self.conv2(X))
        X = F.max_pool2d(X, 2, 2)
        X = X.view(-1, 54*54*16)
        X = F.relu(self.fc1(X))
        X = F.relu(self.fc2(X))
        X = self.fc3(X)
        return F.log_softmax(X, dim=1)

torch.manual_seed(462)
CNNmodel = ConvolutionalNetwork().to(device)
criterion = nn.CrossEntropyLoss()
optimizer = torch.optim.Adam(CNNmodel.parameters(), lr=0.00005)

import time
start_time = time.time()

epochs = 15

train_losses = []
test_losses = []
train_correct = []
test_correct = []

for i in range(epochs):
    trn_corr = 0
    tst_corr = 0
    
    # Run the training batches
    for b, (X_train, y_train) in enumerate(train_loader):
        X_train = torch.FloatTensor(X_train).to(device)
        y_train = torch.LongTensor(y_train).to(device)        

        b+=1
        
        # Apply the model
        y_pred = CNNmodel(X_train)
        loss = criterion(y_pred, y_train)
 
        # Tally the number of correct predictions
        predicted = torch.max(y_pred.data, 1)[1]
        batch_corr = (predicted == y_train).sum()
        trn_corr += batch_corr
        
        # Update parameters
        optimizer.zero_grad()
        loss.backward()
        optimizer.step()

        # Print interim results
        if b%457 == 0:
            print(f'epoch: {i:2}  batch: {b:4} [{50*b:6}/68538]  loss: {loss.item():10.8f}  \
accuracy: {trn_corr.item()*100/(50*b):7.3f}%')

    train_losses.append(loss)
    train_correct.append(trn_corr)

    # Run the testing batches
    with torch.no_grad():
        for b, (X_test, y_test) in enumerate(test_loader):
            X_test = torch.FloatTensor(X_test).to(device)
            y_test = torch.LongTensor(y_test).to(device)

            # Apply the model
            y_val = CNNmodel(X_test)

            # Tally the number of correct predictions
            predicted = torch.max(y_val.data, 1)[1] 
            tst_corr += (predicted == y_test).sum()

    loss = criterion(y_val, y_test)
    test_losses.append(loss)
    test_correct.append(tst_corr)

print(f'\nDuration: {time.time() - start_time:.0f} seconds') # print the time elapsed