Hello Altruists,
I am working on a multiclass classification with image data. The training set has 9015 images of 7 different classes.
Target labeling looks like 0,1,0,0,0,0,0
But the dataset is very much skewed to one class having 68% images and lowest amount is 1.1% belongs to another class. Please take a look at the figure below: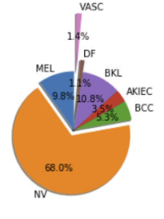 How can I use weighted nn.CrossEntropyLoss ?
Do I normalize the weights in order as it is or in reverse order?
weights = [9.8, 68.0, 5.3, 3.5, 10.8, 1.1, 1.4] #as class distribution
class_weights = torch.FloatTensor(weights).cuda()
Criterion = nn.CrossEntropyLoss(weight=class_weights)