In my denoising work, I use torch.optim.lr_scheduler.StepLR to adjust learning rate. But it seems different between scheduler.step() and scheduler.step(ave_train_loss) that I called in each training epoch's end.
After training,I test both two models in same images, and get following result: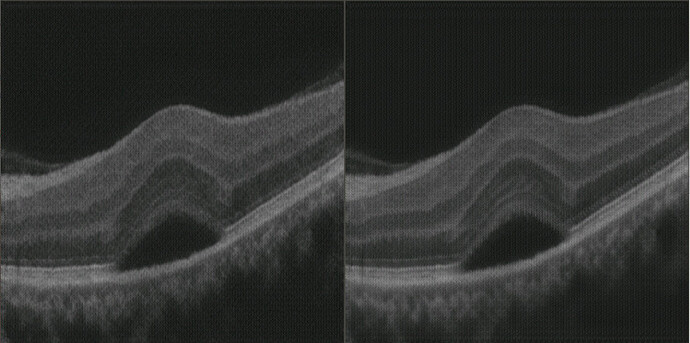 Figures in left and right are using
scheduler.step()
and
scheduler.step(ave_train_loss)
respectively. I repeat several times to train and test in same situations, but get almost the same results.
I don't find something interpretable about this question in source code. I think it should be no effect in StepLR scheduler when calling scheduler.step() with a parameter
class _LRScheduler(object):
 ...
 def step(self, epoch=None):
        # Raise a warning if old pattern is detected
        # https://github.com/pytorch/pytorch/issues/20124
        if self._step_count == 1:
            if not hasattr(self.optimizer.step, "_with_counter"):
                warnings.warn("Seems like `optimizer.step()` has been overridden after learning rate scheduler "
                              "initialization. Please, make sure to call `optimizer.step()` before "
                              "`lr_scheduler.step()`. See more details at "
                              "https://pytorch.org/docs/stable/optim.html#how-to-adjust-learning-rate", UserWarning)

            # Just check if there were two first lr_scheduler.step() calls before optimizer.step()
            elif self.optimizer._step_count < 1:
                warnings.warn("Detected call of `lr_scheduler.step()` before `optimizer.step()`. "
                              "In PyTorch 1.1.0 and later, you should call them in the opposite order: "
                              "`optimizer.step()` before `lr_scheduler.step()`.  Failure to do this "
                              "will result in PyTorch skipping the first value of the learning rate schedule. "
                              "See more details at "
                              "https://pytorch.org/docs/stable/optim.html#how-to-adjust-learning-rate", UserWarning)
        self._step_count += 1

main of my code is following
#  optimizer and scheduler
    optimizer = torch.optim.Adam(model.parameters(), lr=1e-3)
    scheduler = torch.optim.lr_scheduler.StepLR(optimizer, step_size=50, gamma=0.5)
    if train_mode:
        for epoch in range(1000):
            ave_train_loss = 0
            model.train()
            for i, (image, label) in enumerate(train_loader):
                optimizer.zero_grad()
                image = image.to(device)
                label = label.to(device)
                output = model(image)
                full_loss = critetion(output, label)
                full_loss.backward()
                optimizer.step()
                ave_train_loss += image.size()[0] * full_loss.item()
            ave_train_loss /= len(train_dataset)
            scheduler.step(ave_train_loss)