Hello all,
If you have a model that segments a structure, like kidneys in this case: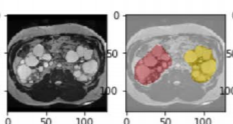 What is a good approach for eliminating images that have a few positive pixels but no kidneys? A simple approach is thresholding the number of pixels but I figured I would get better results with a classifier on top of the segmentation model.
In this case, I was thinking of training the segmentation models on images with just kidneys and then training the classifier on the normal distribution of images (with and without kidneys) using the first segmentation model. I am just questioning if I should use the segmentation model as an encoder only, or just take the final output of the segmentation model and add a few dense layers on top?
Thoughts or feedback appreciated!
My model setup for reference:
# https://github.com/qubvel/segmentation_models.pytorch
ENCODER = 'efficientnet-b6'
ENCODER_WEIGHTS = 'imagenet'
ACTIVATION = None 
DEVICE = 'cuda'
n_class = 2

    model = smp.Unet(
        encoder_name=ENCODER, encoder_weights=ENCODER_WEIGHTS, classes=n_class, activation=ACTIVATION,
    )