Hi,
I am trying to implement a batch matrix multiplication like the first equation in this image.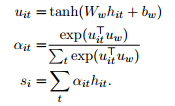 The weight and bias are defined as a parameter in the model. I am making a copy of the bias term to the entire batch.
def batch_matmul_bias(seq, weight, bias, nonlinearity=''):
s = None
bias_dim = bias.size()
for i in range(seq.size(0)):
    _s = torch.mm(seq[i], weight) 
    _s_bias = _s + bias.expand(bias_dim[0], _s.size()[0])
    print _s_bias.size()
    if(nonlinearity=='tanh'):
        _s_bias = torch.tanh(_s_bias)
    _s_bias = _s_bias.unsqueeze(0)
    if(s is None):
        s = _s_bias
    else:
        s = torch.cat((s,_s_bias),0)
return s.squeeze()

The forward pass works, but when doing the backward pass, I am getting a size mismatch error.
RuntimeError: sizes do not match at /data/users/soumith/miniconda2/conda-bld/pytorch-cuda80-0.1.7_1485448159614/work/torch/lib/THC/generated/../generic/THCTensorMathPointwise.cu:216

Can you help me fix it?
Thank you.