Hello!
*Disclaimer, my first post to stackoverflow is coming to mind where I got flamed for poor formatting, I'm sorry ahead of time if I broke a formatting rule.
I am creating a neural network model to mimic three tasks used for clinical assessments in stroke survivors. The data structures of the model are word embeddings from gloves' wiki-gigaworld and the output are a series of numbers reflecting the letters needed to spell the word that coincides with each vector.
The three tasks I am modeling are a meaning to word task, a word repetition task, and a task matching a word to its meaning (the opposite of the first task). Note, that I am NOT using audio files or images. I have previously created this model with LENS (light efficient network simulator), but am transitioning to python for the ease of data prep, implementation, etc.
I am providing a picture of the network I am trying to create. Where I have labeled arpab![pytorch example et_in/out represents the letter/number sequences that are used to represent each word, and embeddings are the word embeddings from glove.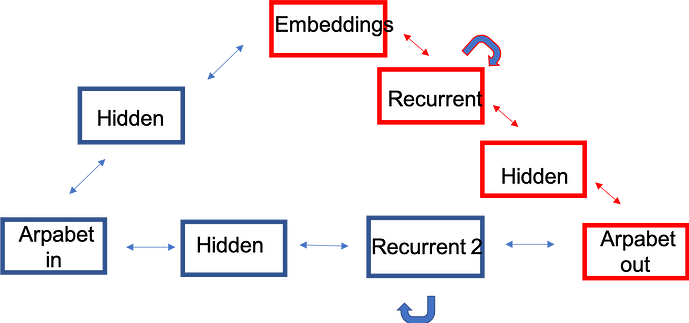 The code I am providing reflects part of the model I am trying to create, which is colored in red in the image. It works! My question is 1) can I add the remaining structure (colored in blue) of my intended network when i define the bidirectional network? If so, can anyone provide any guidance as to how I can complete this task or even point me in the direction of some code resources to aid in the process?
class BiDir(torch.nn.Module):
    def __init__(self, weights, emb_dim, hid_dim, rnn_num_layers=2):
        super().__init__()
        #Embedding layers using glove as the pretrained weights
        self.embedding = nn.Embedding.from_pretrained(weights)
        #Bidirectional GRU module for forward pass with 2 hidden layers
        self.rnn = torch.nn.GRU(emb_dim, hid_dim, bidirectional=True, num_layers=rnn_num_layers)
        self.l1 = torch.nn.Linear(hid_dim * 2 * rnn_num_layers, 256)
        self.l2 = torch.nn.Linear(256, 2)

    def forward(self, samples):
        
        #Forward Pass        
        embedded = self.embedding(samples)
        _, last_hidden = self.rnn(embedded)
        hidden_list = [last_hidden[i, :, :] for i in range(last_hidden.shape[0])]
        #Calculating the loss
        encoded = torch.cat(hidden_list, dim=1)
        #RELU and Sigmoid Activation Function
        encoded = torch.nn.functional.relu(self.l1(encoded))
        encoded = torch.nn.functional.sigmoid(torch.FloatTensor(self.l2(encoded)))

        return encoded

#weights = pretrained embeddings of length 300
#1392 words in current model
model = BiDir( weights, 300, 1392, rnn_num_layers=2)

criterion = torch.nn.MultiLabelSoftMarginLoss()
optimizer = torch.optim.Adam(model.parameters())

TEXT.vocab.stoi
TEXT.vocab.itos[50]

for epoch in range(1):
    #Running the model for 20 epochs
    for batch in dataset_iter:
        optimizer.zero_grad()
        output = model(batch.text)
        loss = criterion(output, batch.label)
        loss.backward()
        optimizer.step()
    with torch.no_grad():
        acc = torch.abs(output - batch.label).view(-1)
        #acc = acc.sum() / acc.size()[0] * 100.
        #Calculating the accuracy
        acc = (1. - acc.sum() / acc.size()[0]) * 100.
        print(f'Epoch({epoch+1}) loss: {loss.item()}, accuracy: {acc:.1f}%')