I am trying to identify 3 (classes) mental states based on EEG connectome data. The shape of the data is 99x1x34x 34x50x130, with respectably represent [subjects, channel, height, width, freq, time series]. For the sake of this study, can only input a 1x34x34 image of the connectome data. From previous studies, it was found that the alpha band (8-1 hz) had given the most information, thus the dataset was narrowed down to 99x1x34x34x4x130. The testing set accuracy on pervious machine learning techniques such as SVMs reached a testing accuracy of ~75%. Hence, by goal is to achieve a greater accuracy given the same data (1x34x34). Since my data is very limited 1-66 for training and 66-99 for testing (fixed ratios and have a 1/3 class distribution), I thought of splitting the data along the time series axis (6th axis) and then averaging the data to a shape of 1x34x34 (from ex. 1x34x34x4x10, 10 is the random sample of time series). This gave me ~1500 samples for training, and 33 for testing (testing is fixed, the class distributions are 1/3).
Model:
SimpleCNN(
  (conv1): Conv2d(1, 32, kernel_size=(3, 3), stride=(1, 1), padding=(1, 1))
  (conv2): Conv2d(32, 32, kernel_size=(3, 3), stride=(1, 1), padding=(1, 1))
  (pool1): MaxPool2d(kernel_size=2, stride=2, padding=0, dilation=1, ceil_mode=False)
  (drop1): Dropout(p=0.25, inplace=False)
  (fc1): Linear(in_features=9248, out_features=128, bias=True)
  (drop2): Dropout(p=0.5, inplace=False)
  (fc2): Linear(in_features=128, out_features=3, bias=True)
)
CrossEntropyLoss()
Adam (
Parameter Group 0
    amsgrad: False
    betas: (0.9, 0.999)
    eps: 1e-08
    lr: 5e-06
    weight_decay: 0.0001
)

Results:
The training set can achieve an accuracy of 100% with enough iteration, but at the cost of the testing set accuracy. After around 20-50 epochs of testing, the model starts to overfit to the training set and the test set accuracy starts to decrease (same with loss).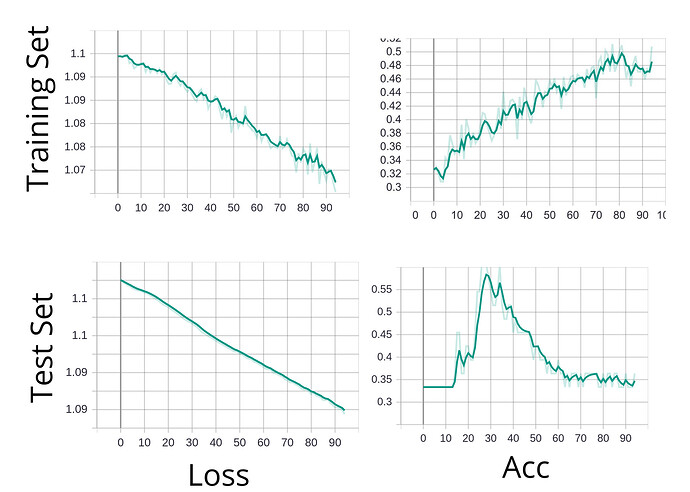 What I have tried:
I have tried tuning the hyperparameters: lr=.001-000001, weight decay=0.0001-0.00001. Training to 1000 epochs (useless bc overfitting in less than 100 epochs). I have also tried increasing/decreasing the model complexity with adding adding addition fc layers and varying amount of channels in CNN layers form 8-64.
Any tips?