Hey,
I am trying to do a activity recognition. For that i have a lot of small videos to train my network. Each video has a different size in length. So i create for every video a new dataset and put them together with the ConcatDataset function, to avoid "jumps" when i would just load it as one big video or dataset. Now when i run my network with num_workers = 0 it works perfectly fine, but when i put num_workers to 1 or higher i get the following error: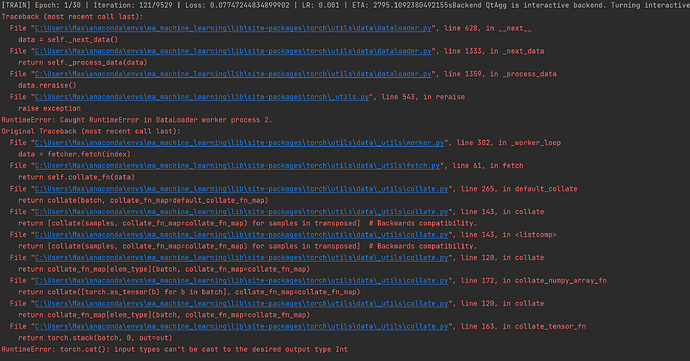 The problem occurs in the dataloader while iterating. When i change the batch_size to a higher or lower value, the code will run for 1 or 2 epochs until the same error occurs.
I checked all my batches for the input data type and they have exactly the same type. For input a float and output a int32. I am running the code on windows and on a cuda device.
My custom dataset looks like this:
class HandPoseDatasetNumpy(Dataset):
def init(self, data, distances=Config.only_dist):
self.data = data
self.distances = distances
def __len__(self):
    return len(self.data[0])

def __getitem__(self, idx):
    x = self.data[0]
    y = self.data[1]
    seq_x = x[idx:idx + Config.sequence_length:Config.sequence_steps]
    seq_y = y[idx:idx + Config.sequence_length:Config.sequence_steps]

    # ergänzt weitere zahlen für die sequenz damit diese nicht in das neue video springt
    to_pad = math.ceil(Config.sequence_length/Config.sequence_steps) - seq_x.shape[0]
    x_pad = np.pad(seq_x, ((0, to_pad), (0, 0)), mode='mean')
    y_pad = np.pad(seq_y, ((0, to_pad), (0, 0)), mode='mean')

    x = x_pad.reshape(math.ceil(Config.sequence_length/Config.sequence_steps), 21, 3)

    return x, y_pad

If you have any ideas or need more information, just tell me`