I am trying to convert an LSTM & Embedding model from Keras to Pytorch. The Keras model summary looks like this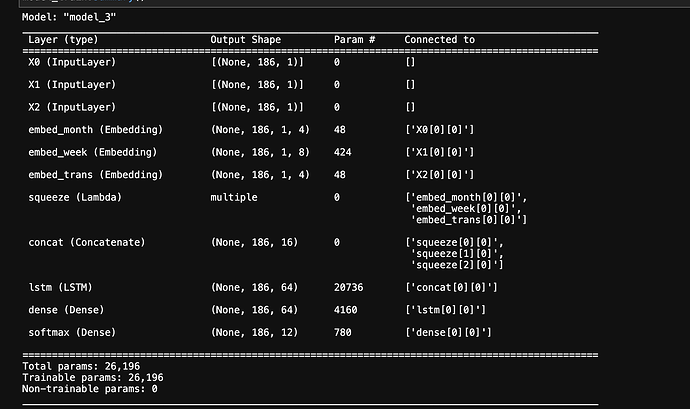 .
The converted Pytorch model looks like this
class test_model(nn.Module):
def init(self):
super(test_model,self).init()
self.embed0 = nn.Embedding(12,emb_size(12))
self.embed1 = nn.Embedding(53,emb_size(53))
self.embed2 = nn.Embedding(12,emb_size(12))
self.LSTM = nn.LSTM(16, 64,batch_first = True)
self.linear = nn.Linear(64, 186)

def forward(self,X):
    embed_0 = self.embed0(X[:,:,0])
    embed_1 = self.embed1(X[:,:,1])
    embed_2 = self.embed2(X[:,:,2])
    X = torch.cat((embed_0,embed_1,embed_2),dim=-1)
    output,hidden = LSTM(X) 
    return self.linear(output)

However, I am getting a different loss. The dataset/optimizer and loss functions are same across Keras and Pytorch. Any idea ?