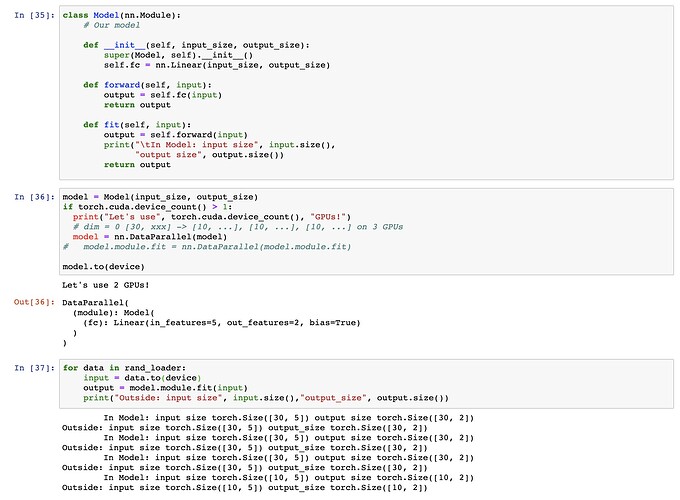 So in the two images there are two different models
model
and
model_p
both being wrapped under
nn.DataParallel
. But in
model
when calling some attribute
fit
using the
model.module
method, I'm unable utilize the two GPUs I originally wanted to parallelize my model upon. i.e
model
doesn't split the dim=0 batch_first dimension into two equal halves for putting it onto two devices as can be seen from the print statements.
Ps. I am very new to using DataParallel and wanted to use something like this. i.e What I actually want is, to call
model.module.fit
in my training loop with the args as the inputs from my dataloader and in this fit attribute ultimately will makes a call to the forward method of the class model.
But this whole thing doesn't seem to parallelize and utilize the two GPUs which the model_p could without any fit function and a direct call to forward internally.
I've added the link to the notebook which was run with CUDA_VISIBLE_DEVICES=0,1
What should I change?
Thanks!
class Model(nn.Module):
    # Our model


    def __init__(self, input_size, output_size):
        super(Model, self).__init__()
        self.fc = nn.Linear(input_size, output_size)

    def forward(self, input):
        output = self.fc(input)
        return output
    
    def fit(self, input):
        output = self.forward(input)
        print("\tIn Model: input size", input.size(),
              "output size", output.size())
        return output

model = Model(input_size, output_size)
if torch.cuda.device_count() > 1:
  print("Let's use", torch.cuda.device_count(), "GPUs!")
  # dim = 0 [30, xxx] -> [10, ...], [10, ...], [10, ...] on 3 GPUs
  model = nn.DataParallel(model)

model.to(device)

for data in rand_loader:
    input = data.to(device)
    output = model.module.fit(input)
    print("Outside: input size", input.size(),"output_size", output.size())

#############################CASE 2############################
class ModelParallel(nn.Module):
    # Our model

    def __init__(self, input_size, output_size):
        super(ModelParallel, self).__init__()
        self.fc = nn.Linear(input_size, output_size)

    def forward(self, input):
        output = self.fc(input)
        print("\tIn Model: input size", input.size(),
              "output size", output.size())

        return output
    
model_p = ModelParallel(input_size, output_size)
if torch.cuda.device_count() > 1:
  print("Let's use", torch.cuda.device_count(), "GPUs!")
  # dim = 0 [30, xxx] -> [10, ...], [10, ...], [10, ...] on 3 GPUs
  model_p = nn.DataParallel(model_p)
#   model.module.fit = nn.DataParallel(model.module.fit)

model_p.to(device)

for data in rand_loader:
    input = data.to(device)
    output = model_p(input)
    print("Outside: input size", input.size(),"output_size", output.size())