Hi there,
I'm trying to decrease my model GPU memory footprint to train using high-resolution medical images as input. I'm following the FSDP tutorial but am seeing an increase in GPU memory when moving to multiple GPUs rather than a decrease.
I'm using the code as-is from the FSDP tutorial except for the following changes:
I passed the custom auto_wrap policy to FSDP initialisation as it was created in the example code but not used: model = FSDP(model, auto_wrap_policy=my_auto_wrap_policy).
I update WORLD_SIZE to the number of GPUs I'd like to test on (1 or 2).
When training with a single GPU, memory usage is at 1985MiB. However, when training with 2 GPUs, memory usage for each GPU is > 2000 MiB. Any suggestions?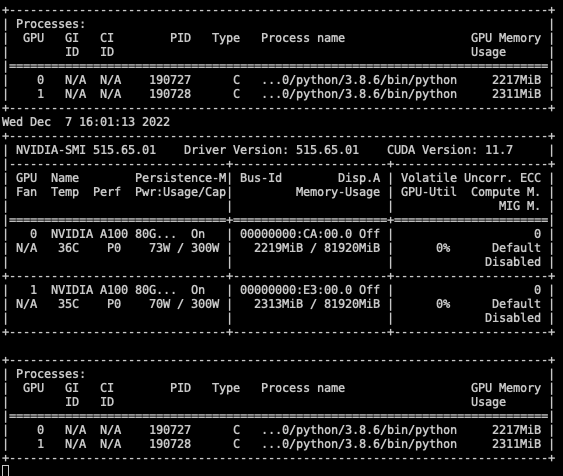 Wrapped model:
FullyShardedDataParallel(
  (_fsdp_wrapped_module): FlattenParamsWrapper(
    (_fpw_module): Net(
      (conv1): FullyShardedDataParallel(
        (_fsdp_wrapped_module): FlattenParamsWrapper(
          (_fpw_module): Conv2d(1, 32, kernel_size=(3, 3), stride=(1, 1))
        )
      )
      (conv2): FullyShardedDataParallel(
        (_fsdp_wrapped_module): FlattenParamsWrapper(
          (_fpw_module): Conv2d(32, 64, kernel_size=(3, 3), stride=(1, 1))
        )
      )
      (dropout1): Dropout(p=0.25, inplace=False)
      (dropout2): Dropout(p=0.5, inplace=False)
      (fc1): FullyShardedDataParallel(
        (_fsdp_wrapped_module): FlattenParamsWrapper(
          (_fpw_module): Linear(in_features=9216, out_features=128, bias=True)
        )
      )
      (fc2): FullyShardedDataParallel(
        (_fsdp_wrapped_module): FlattenParamsWrapper(
          (_fpw_module): Linear(in_features=128, out_features=10, bias=True)
        )
      )
    )
  )
)

Environment:
> python -m torch.utils.collect_env  
Collecting environment information...
PyTorch version: 1.13.0+cu117
Is debug build: False
CUDA used to build PyTorch: 11.7
ROCM used to build PyTorch: N/A

OS: Red Hat Enterprise Linux Server release 7.9 (Maipo) (x86_64)
GCC version: (GCC) 10.2.0
Clang version: Could not collect
CMake version: Could not collect
Libc version: glibc-2.17

Python version: 3.8.6 (default, Mar 29 2021, 14:28:48)  [GCC 10.2.0] (64-bit runtime)
Python platform: Linux-3.10.0-1160.66.1.el7.x86_64-x86_64-with-glibc2.2.5
Is CUDA available: True
CUDA runtime version: 11.7.64
CUDA_MODULE_LOADING set to: LAZY
GPU models and configuration: 
GPU 0: NVIDIA A100 80GB PCIe
GPU 1: NVIDIA A100 80GB PCIe

Nvidia driver version: 515.65.01
cuDNN version: Could not collect
HIP runtime version: N/A
MIOpen runtime version: N/A
Is XNNPACK available: True

Versions of relevant libraries:
[pip3] numpy==1.23.3
[pip3] pytorch-lightning==1.8.3
[pip3] torch==1.13.0
[pip3] torchio==0.18.84
[pip3] torchmetrics==0.9.3
[pip3] torchvision==0.14.0
[conda] Could not collect

Thanks,
Brett