Hello everyone. I am facing an issue. I am explaining what I am trying to do.
I have a Traffic and Road sign dataset that contains 43 classes. I am trying to classify the images. I am using the resnet34 pre-trained model. I have AMD RX6600 GPU that I use for running the model. For running the model on my AMD GPU I am using Pytorch Directml and using this code
import torch_directml
dml = torch_directml.device()

to find the device. Using this dml instance, I push the mode and training data to the GPU. But the problem is weights do not update. After a lot for debugging, I found that the model grad becomes none in the training loop when using GPU. But in the CPU it works totally fine.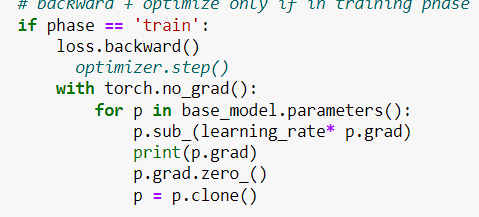 When I want to see the grad values, I found this issue. When the model is in CPU, this print statement prints some numbers. But when I run same code in GPU the following error occurs.


you can see p.grad become none. And that's why when I use the optimizer.step() nothing is updated and the model does not learn anything. Can anyone help me with this issue?
Thanks in advance