Hi – I'm trying to implement the GradNorm algorithm from this paper. I'm closely following the code from this repository. However, whenever I run it, I get:
model.task_loss_weights.grad = torch.autograd.grad(grad_norm_loss, model.task_loss_weights)[0]
  File "/home/ubuntu/anaconda3/envs/pytorch_latest_p36/lib/python3.6/site-packages/torch/autograd/__init__.py", line 192, in grad
    inputs, allow_unused)
RuntimeError: element 0 of tensors does not require grad and does not have a grad_fn

I can see that grad_norm_loss doesn't have a gradient, so I set requires_grad=True explicitly, at which point I got:
RuntimeError: One of the differentiated Tensors appears to not have been used in the graph. Set allow_
unused=True if this is the desired behavior.    

When I set allow_unused=True, I got None back as my gradient.
For context, the paper specifies: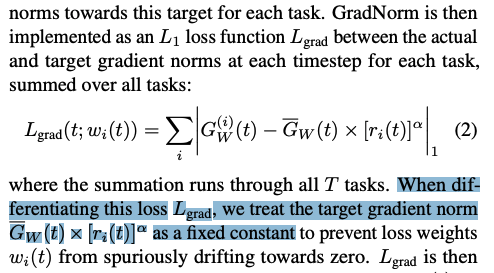 which is why requires_grad for the constant_term of the grad_norm_loss is set explicitly to False. For reference, here is the relevant section of code:
How can I work around this?