For reference, I asked a similar question on the MONAI forum here, but couldn't get a suitable response, so I am asking it here on the PyTorch forum to get more insights.
I am using the SwinUNETR network from the MONAI package (monai.networks.nets.SwinUNETR) for training a model for segmenting tumors from concatenated patches (along channel dimension) of PET/CT images.
The patches from PET/CT images are randomly cropped using the monai.transforms.RandCropByPosNegLabeld. I want the training crop sizes to be (192, 192, 192) voxels since I trained the UNet Model (monai.networks.nets.UNet) on (192, 192, 192) and that performed better than using other patch sizes. Also, for a given training patch size (N, N, N), the patch/window size (M, M, M) used for sliding window inference (monai.inferers.sliding_window_inference) matters too when it comes to getting an optimal Dice score on the validation set. This is illustrated in the following plots where for the UNet, the training patch is N = 96
(left) and N=192 (right) and for both cases, various inference patch sizes (M = 96, 128, 160, 192, 224, 256, 288) have been used for sliding window inference. So, the best performance for N = 96 occurs for (N, M) = (96, 256), while for N = 192, the best performance happens at (N, M) = (192, 192). Ultimately, my best performing UNet model is the one where (N, M)=(192, 192), and I want to compare this with the performance of SwinUNETR with the same (N, M) configuration.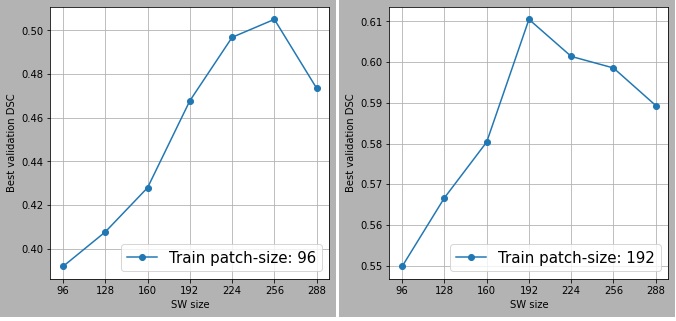 But unfortunately, the size of SwinUNETR depends on the size of the images and I seem to run out of GPU memory when I use (N, M) = (192, 192). Currently, I am running my experiments on a Microsoft Azure VM with 4 GPUs (each with 16 GiB RAM) (using DistributedDataParallel()). I was wondering if there are any other non-trivial ways of running this large model on these 4 GPUs without running out of memory. The largest (N, M) that I am able to comfortably run for SwinUNETR is (96, 96). Please let me know.
PS: I run out of memory even when I just use one concatenated patch of size (192, 192, 192) as input to the model.