Dear everyone:
Sorry, I am new to pytorch. When I learn tutorial (TRANSLATION WITH A SEQUENCE TO SEQUENCE NETWORK AND ATTENTION).
https://pytorch.org/tutorials/intermediate/seq2seq_translation_tutorial.html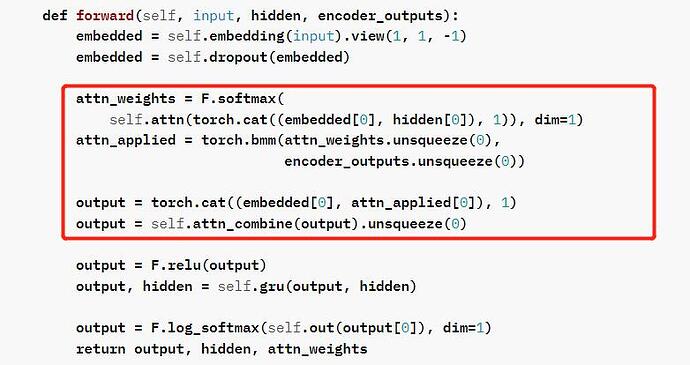 1st question: May I ask why you choose embedded[0] in self.attn(torch.cat((embedded[0], hidden[0]), 1)), dim=1), and what do hidden[0] represent? Why not take embedded, hidden overall
2nd question: attn_applied = torch.bmm(attn_weights.unsqueeze(0),
encoder_outputs.unsqueeze(0))
Why is it multiplied after expansion in attn_weights.unsqueeze(0) dimension?
Thanks
best wishes