First, i apologize for my poor English.
Recently, I bought RTX2060 for deep learning. I installed pytorch-gpu with conda by conda install pytorch torchvision cudatoolkit=10.1 -c pytorch. Of course, I setup NVIDIA Driver too.
But when i ran my pytorch code, it was so slow to train. So i checked task manger and it seems torch doesn't using GPU at all!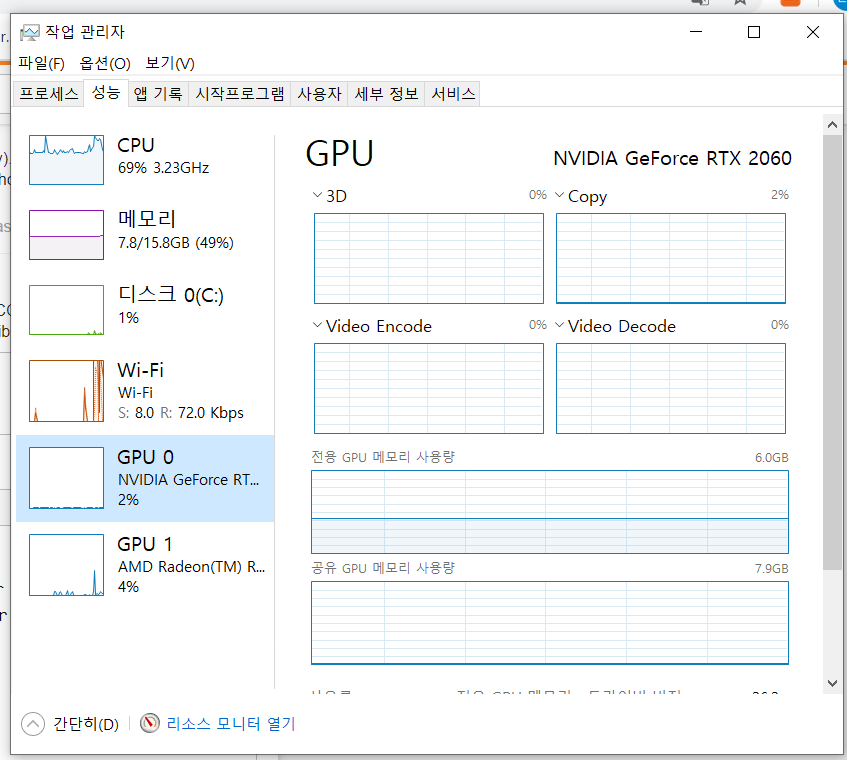 Rather, as shown in picture, CPU was used highly more than GPU. It's replying true for torch.cuda.is_available(), but overall training speed and task manager's graph seems torch can't utilize GPU well. Is there something I missed? Here are my nvidia-smi.
Sun Mar 29 15:25:26 2020
±----------------------------------------------------------------------------+
| NVIDIA-SMI 431.91 Driver Version: 431.91 CUDA Version: 10.1 |
|-------------------------------±---------------------±---------------------+
| GPU Name TCC/WDDM | Bus-Id Disp.A | Volatile Uncorr. ECC |
| Fan Temp Perf Pwr:Usage/Cap| Memory-Usage | GPU-Util Compute M. |
|===============================+======================+======================|
| 0 GeForce RTX 2060 WDDM | 00000000:01:00.0 Off | N/A |
| N/A 73C P2 61W / N/A | 2779MiB / 6144MiB | 46% Default |
±------------------------------±---------------------±---------------------+
±----------------------------------------------------------------------------+
| Processes: GPU Memory |
| GPU PID Type Process name Usage |
|=============================================================================|
| 0 2984 C …01\Anaconda3\envs\PyTorchGPU\python.exe N/A |
| 0 10636 C …01\Anaconda3\envs\PyTorchGPU\python.exe N/A |
±----------------------------------------------------------------------------+