Hi, I want to use a trained model, for example, this model but when ı try to loading models via torch.load()
import torch
from torchvision import transforms
import torchvision.models as models
import cv2

device = torch.device("mps")
model = torch.load("epoch_50.pth", map_location = device)
model.eval()


transform = transforms.ToTensor()
image = "exmp.jpg"
image = cv2.imread(image)
input = transform(image)
input = input.unsqueeze(0)


input.to(device)
result = model(input)
print(result)

They say me that error:


I finally figure out that this is because this model is saved according to state_dict.
After that ı try to apply this tutorial but ı faced another problem that there is no a nn model that must be saved or load with state_dict, in short, ı have no class like class TheModelClass(nn.Module), just want to use a trained model.
Maybe using backbone stated in model page to load model with state_dict would be useful, like so:
import torch
from torchvision import transforms
import torchvision.models as models
import cv2

device = torch.device("mps")
model = models.resnet50() ## adding this backbone according to model shared page
model.load_state_dict(torch.load("epoch_50.pth", map_location = device))
model.eval()


transform = transforms.ToTensor()
image = "exmp.jpg"
image = cv2.imread(image)
input = transform(image)
input = input.unsqueeze(0)


input.to(device)
result = model(input)
print(result)

but unfortunately this approach also ends up with a fancy another problem like: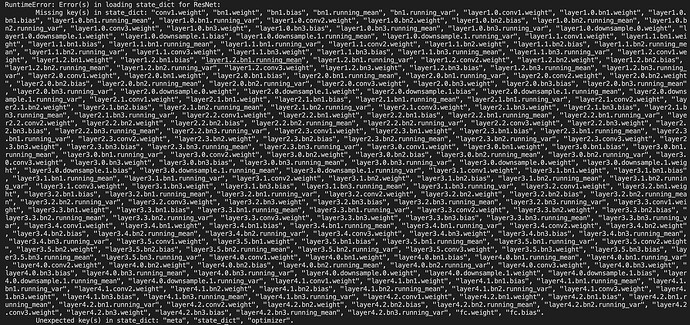 This is a problem that ı cannot find any useful solution. Your reply will be appreciated, thank you so much.