I use the torch.distributed.launch module to multi-processing my training program. Everything seems fine but I don't know why some process in 1-N gpu will has another memory usage in GPU 0.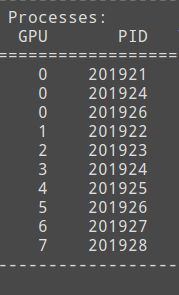 As depicted in the picture, the process in gpu4,6 have something in gpu0, this two usage are about 700+M memory. And sometimes other processes will also have similar behavior, but not all the other process will have memory usage in gpu0.
I don't know why this thing happen? Since the memory unbalances, the training sometimes will be close due to 'out of memory error.