Hello Altruists,
I am working on a multiclass classification with image data. The training set has 9015 images of 7 different classes.
Target labeling looks like 0,1,0,0,0,0,0
But the dataset is very much skewed to one class having 68% images and lowest amount is 1.1% belongs to another class. Please take a look at the figure below: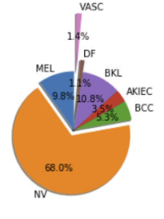 So my first question is: how can I augment/stratify the dataset with all classes having nearly same percentage of samples?
Moreover, for this multiclass classification how do I format the labels? For example, in MNIST the labels are 0 to 9 for different digit images.
Shall I also format the class labels alike 1~7?
Thanks in advance.