Hi all,
I've just installed:
The latest version of anaconda;
Pytorch (based on the attached screen shot of specs); and
I'm running CUDA 9.2, Python 3.7, Windows 10.
I've also checked in my "snowflakes" environment (via anaconda prompt) that pip3 & tourchvision are on the list.
Problem frame | When I open Juypter and run:
from torchvision import transforms
I get this error:
ModuleNotFoundError: No module named 'torchvision'
Can someone please advise why this is the case and how to corrrect, because, I can't use torchvision for a project I'm working on.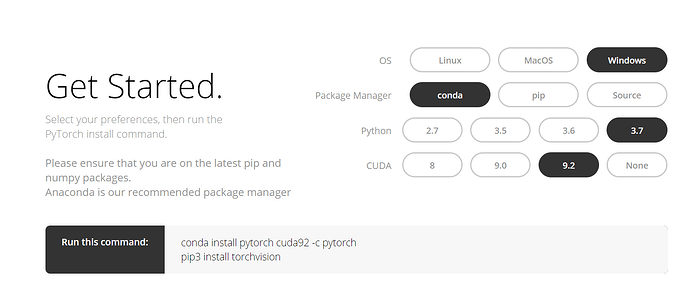 PS: When using Anaconda Navigator - I've gone to my environment, and looked for torchvision (in the search packages box). In Anaconda there are no packages called torchvision. So, why would PyTorch recommend it's install (see screen shot above) if there is no PyTorch (or torchvision, etc) package/s in anaconda?