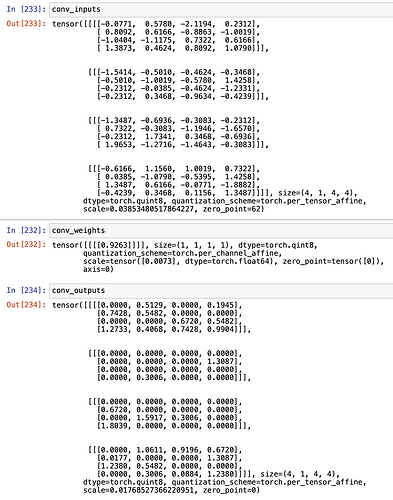 I find that floating point values are still being stored and used during inference in a quantized model
I understand that quantization is to convert model weights from floating point to integer weights (specifically float32 to quint8). When I print out the quantized inputs, outputs, and weights of an example given on the Pytorch Quantization documentation, you can see in the picture that they are stored as float32 numbers with scale and zero_point. I understand that the integer representation ( .int_repr() ) of these quantized tensors are calculated by dividing these float32 numbers by scale and adding zero_point, and then rounding. However, in my experimenting, I find that these integer representations of the tensors are not being used during inferencing. The float32 parts of the quantized input, weights and outputs are the only parts being used during inferencing without using these zero_point and scale associated with each tensor.
So my question is, what is the meaning of quantization if floating point values are still involved with the inferencing process, and how does that reduce the memory by a quarter of the original size if these floating point values still need to be stored in memory?
Thank you in advance. Any input would be hugely appreciated.