Hello,
I am trying to obtain a wave model which requires simultaneous solutions of multiple ODE's.
My input is has 2 input features. First one is Stimuli which only initiates the wave, and mostly 0's.
However, my model can't produce a specific part of the wave.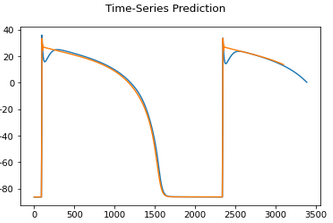 As you can see, most of the wave is predicted very accurately.
What I tried is,
Changing the hidden dimension
Changins the sequence length
Changing the batch size
Adding additional FC layers
Increasing and decreasing LSTM Layer numbers
Using MSE and L1 Loss functions
Increasing data sizes
When I try to make my model more complex (such as increasing number of layers & size of hidden dimension) It tends to overfit,

Exact opposite effect occurs when model is simplified or regularization is added.
How can it learn the area after initial sharp increase ? Is there a known approach for this ? I am at a loss at this point.
Thank you kindly.