Recently I am learning to use PyTorch to solve a maximum likelihood problem as described below, and I got a problem with the updates of the parameters.
Data Description
The data comes from the functionsample_data. It contains 10000 observed value of a random variable, each value denotes the interval it lies.
import numpy as np 

def sample_data():
    count = 10000
    rand = np.random.RandomState(0)
    a = 0.3 + 0.1 * rand.randn(count)
    b = 0.8 + 0.05 * rand.randn(count)
    mask = rand.rand(count) < 0.5
    samples = np.clip(a * mask + b * (1 - mask), 0.0, 1.0)
    return np.digitize(samples, np.linspace(0.0, 1.0, 100))

Problem Description
for these observed data, I used the maximum likelihood method with the softmax function to fit the distribution of each interval from 0 - 100.

Here x_i is an One-hot encoding vector of the same size with θ, and my reasoning processing for the maximum likelihood is in the below pic.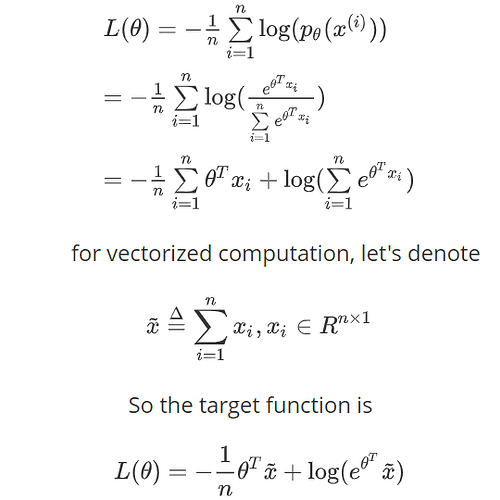 Problem with PyTorch implementation
Here is my implementation for this problem
import torch 
import torch.nn as nn 
from collections import Counter

def sum_x(x):
    dict_item = Counter(x)
    keys_item = dict_item.keys()
    input_of_x = np.zeros((100, 1))
    for key in keys_item:
        input_of_x[key, 0] = dict_item[key]
    return input_of_x

def loss_function(theta, x_fre):
    x = torch.from_numpy(x_fre).float()
    loss = -1/8000 * torch.mm(theta, x) + torch.log(torch.mm(torch.exp(theta), x))
    return loss

X = sample_data()
X_train, X_test = X[:8000], X[8000:]
x_fre = sum_x(X_train)
loss_list = []
theta = torch.zeros((1, 100), requires_grad = True).float()
optimizer = torch.optim.Adam([theta], lr=0.001)

for index in range(1000):
    loss = loss_function(theta, x_fre)
    loss.backward()    
    optimizer.step()
    optimizer.zero_grad()
    loss_list.append(loss)



    
plt.plot(range(len(loss_list)), loss_list)
plt.show()

and the result is show as below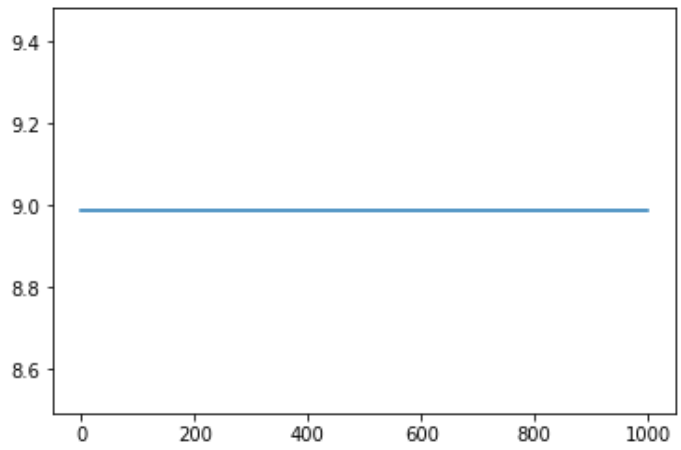 but the prob distribution should have the shape like mixed of two gaussian for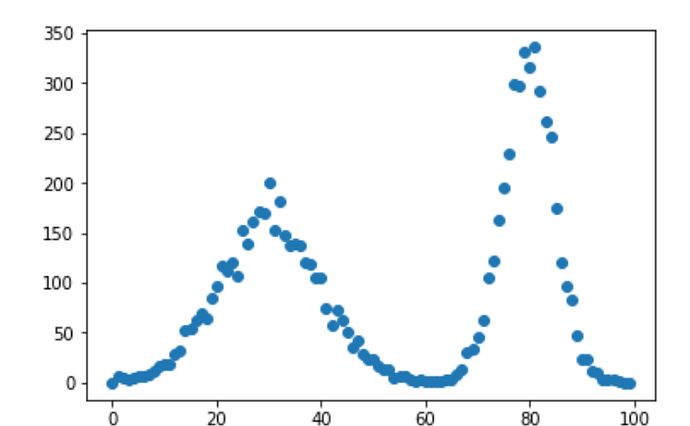 ,
It makes me confusing for days. Is anywhere I made a mistake?
Thanks for anyone who can help me with this.