Hi everyone,
I am fairly new to Pytorch and I'm currently working on a project that needs to perform classification on images. However, it's not a binary classification.
The outputs of the neural network are real numbers. For instance the classification I'm looking the neural network to provide is as such:
Reads Image
says that the image has attribute A at a value of 1200 and another attribute B at a value of 8.
The image data that's fed into this neural net usually has a value range of 1200 - 1800 and another attribute range of 4 - 20. The main goal is to train the network to give an estimated analog value based on the image fed into it.
The classes provided by Pytorch seem to favor binary classification, such as the Dataloader and ImageFolder classes. However, I cannot provide the class folder structure that is often used since I do not have set binary classes: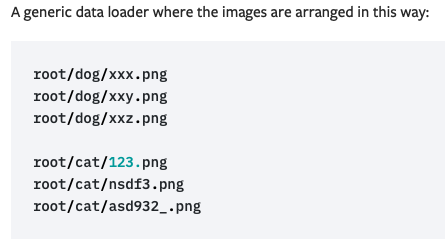 I want to discuss what possible structures of neural networks can support a problem like this. Including activation functions and what Pytorch might have to offer.
Are there implementations out there that I haven't found on the web yet? What type of loss functions and optimizers in Pytorch may best serve this type of problem? Should I even be considering neural networks to perform this task in the first place?
To be clear I'm not asking for code or a complete solution. Just a discussion on developing a neural net that can work with this analog system.
Also if I need to clarify anything I will be happy to.