Hello. The following code snippet has a runtime error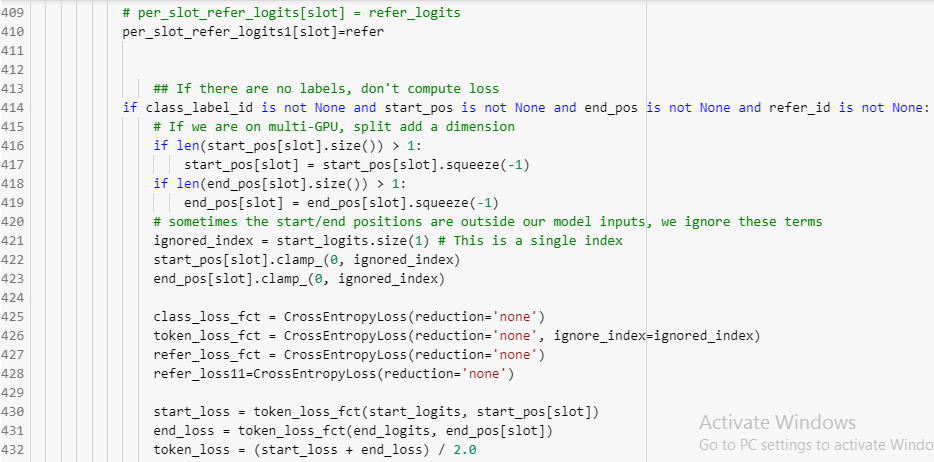 Relevant error:
File "run_dst.py", line 863, in
main()
File "run_dst.py", line 848, in main
result = evaluate(args, model, tokenizer, processor, prefix=global_step)
File "run_dst.py", line 296, in evaluate
outputs = model(**inputs)
File "/usr/local/lib/python3.7/dist-packages/torch/nn/modules/module.py", line 1102, in _call_impl
return forward_call(*input, **kwargs)
File "/content/drive/My Drive/graph_transformer/modeling_bert_dst.py", line 430, in forward
start_loss = token_loss_fct(start_logits, start_pos[slot])
File "/usr/local/lib/python3.7/dist-packages/torch/nn/modules/module.py", line 1102, in _call_impl
return forward_call(*input, **kwargs)
File "/usr/local/lib/python3.7/dist-packages/torch/nn/modules/loss.py", line 1152, in forward
label_smoothing=self.label_smoothing)
File "/usr/local/lib/python3.7/dist-packages/torch/nn/functional.py", line 2846, in cross_entropy
return torch._C._nn.cross_entropy_loss(input, target, weight, _Reduction.get_enum(reduction), ignore_index, label_smoothing)
As can be seen in the relevant code snippet, the original author of the code tried to manage this error.
I got this error by changing other parts of the code that are not related to this part, I do not know what is the reason?
Could it be because of the version of Pytorch?
Because the version used by the author is 1.4.0 and I used version 1.10.0.