Hi pytorch Team,
I am converting the Slowfast pytorch model to ONNX model using torch.onnx.export().
During Conversion, I am getting an error as: RuntimeError: Given groups=1, weight of size [64, 3, 1, 7, 7], expected input[1, 64, 8, 64, 114] to have 3 channels, but got 64 channels instead.
Having said that, the pytorch model Inference is working fine, but do no why it is throwing above error during .pt to .onnx conversion.
Can you please assist me to solve this error? Would be a great help from yourside.
Environment:
Pytorch version: 1.6.0
Torchvision: 0.7.0
ONNX version: 1.7.0
One Note: Model is Slowfast. The input shape is: input0: (1,3,8,256,455), input1: (1,3,32,256,455). input0 is Slow pathway, and input1 is Fast pathway.
I am attaching the screenshot of the error below: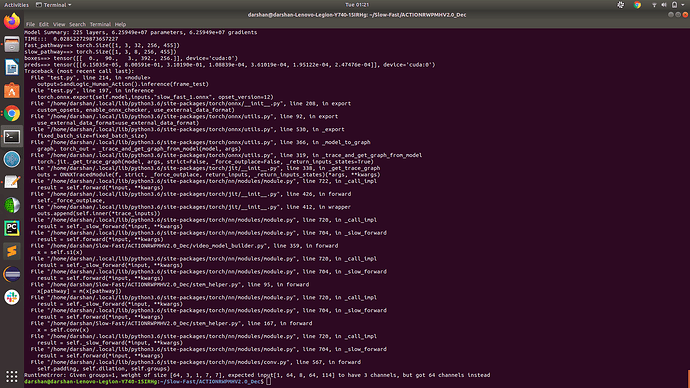 Thanks,
Darshan