Hi, I am new to PyTorch. I am trying to train a simple ANN model for regression. The issue is my loss doesn't seem to be changing much over ~10 epochs. The exact same model/loss/optimizer, on the same data shows very different loss in another implementation. The two implementations primarily differ in data prep. The data is in table format - each row has a target col and a bunch of feature cols. I would greatly appreciate any help (been stuck for several days). Below is my code:
First I read in the data in a pandas dataframes df and df_test. Next, I split df into train_data+val_data using stratified split. The rest of the code is below: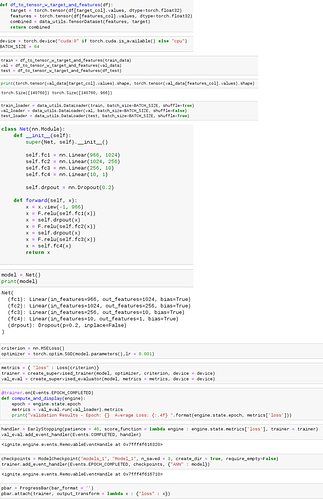 The val_loss changes between 3.84-3.85 over 10 epochs. The other implementation starts with a val_loss < 2 and by 6 epochs is < 1 (same batch size as mine). Sorry for the lengthy post. I would appreciate any help (may be an obvious mistake I am overlooking?). Thanks.