I'm trying to implement simulated annealing as a custom PyTorch optimizer to be used in a neural network training loop instead of a traditional gradient-based method. The code I currently have runs, but the loss just keeps growing rather than decreasing. I've tested on this dataset using a traditional gradient-based method and do achieve improving performance, rather than decreasing like it does here.
I think the issue may be with how I am updating the model parameters on each iteration. For simulated annealing I need to check the loss value for new randomly chosen parameters within some neighborhood of the current parameters. If the loss is lower, I update the model to the new parameters. If the loss is higher, with some probability I will still update the parameters (according to the simulated annealing algorithm).
Is the way I have done this correct? Basically I am updating the parameters with the new (random) ones, testing the loss, and if the loss is higher with the new points I put back the old parameters with some probability (using load_state_dict). If the loss is lower, I keep the new parameters. Any ideas why this is not working?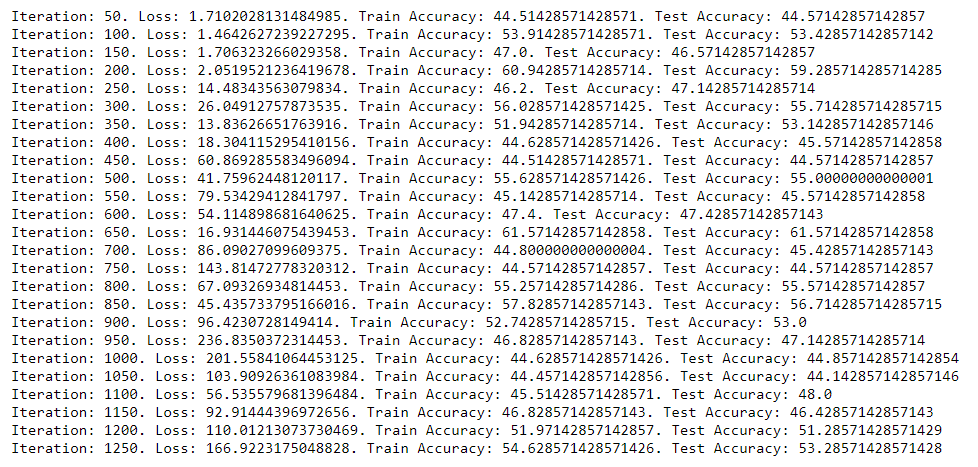 Below is the class I wrote for simulated annealing.
Here is a link to all the code in the notebook (full data pipeline) where I use this simulated annealing algorithm, in case that helps.
import torch
from torch.optim import Optimizer
import torch.nn as nn
import numpy as np
import math

class SimulatedAnnealing(Optimizer):
    def __init__(self, params, startTemp = 1000
                 , coolRate = 0.001, neighborhoodSize = 0.05
                 , loss = nn.CrossEntropyLoss()
                 , model = None
                 , features = None
                 , labels = None): #these represent default values, but can be overridden
        self.startTemp = startTemp
        self.coolRate = coolRate
        self.currTemp = startTemp
        self.loss = loss
        self.model = model
        self.features = features
        self.labels = labels
        self.neighborhoodSize = neighborhoodSize

    def step(self):
        #need to first generate a random new point in the space
        if torch.cuda.is_available():
            oldOutputs = self.model(self.features.cuda())
            oldPerformance = self.loss(oldOutputs, self.labels.type(torch.LongTensor).cuda())
        else:
            oldOutputs = self.model(self.features)
            oldPerformance = self.loss(oldOutputs, self.labels.type(torch.LongTensor))
        oldDict = self.model.state_dict()

        for name, param in self.model.state_dict().items():
            #generate a matrix of random changes in each param element to be added to each param matrix
            if (len(param.shape) == 2):
                random = torch.Tensor(np.random.uniform(low = self.neighborhoodSize * -1, high = self.neighborhoodSize
                                                        , size = (param.shape[0], param.shape[1])))
            else:
                random = torch.Tensor(np.random.uniform(low = self.neighborhoodSize * -1, high = self.neighborhoodSize
                                                        , size = param.shape[0]))
            #now add random to the params to transform them
            new_param = param + random.cuda()
            self.model.state_dict()[name].copy_(new_param)

        if torch.cuda.is_available():
            newOutputs = self.model(self.features.cuda())
            newWeights = self.model.state_dict().items()
            newPerformance = self.loss(newOutputs, self.labels.type(torch.LongTensor).cuda())
        else:
            newOutputs = self.model(self.features)
            newWeights = self.model.state_dict().items()
            newPerformance = self.loss(newOutputs, self.labels.type(torch.LongTensor))

        if (newPerformance < oldPerformance):
            jumpProb = math.exp((newPerformance - oldPerformance) / self.currTemp) #computes the probability of accepting a worse point
            if (np.random.uniform(0, 1) <= jumpProb): #determines whether we jump to worse point or stay with prior point
                self.currTemp -= self.coolRate
            else:
                self.model.load_state_dict(oldDict) #put the old weights back in case where we don't jump'
                self.currTemp -= self.coolRate
        else:
            self.currTemp -= self.coolRate