I have been working on a prediction problem for quite some time.
My model has the input shape of [Sequence Length , Attributes] and tries to predict a single attribute at next time step.
I used very similar model before and got a good result on a very similar problem. Also, I am trying to keep my model as computationally cheap as possible to use in some part of my thesis.
Some of the attributes have critical outliers.
Aim: Predict Next Time Steps Attribute, append it to the current sequential data and keep predicting. Removing the oldest time step,and keeping sequence length at a fixed length
My Model Description: 5-6 CNN Layers 1 LSTM Layer 1 FC Layer (With ReLU Activations Except LSTM of course.)(This is just to show model idea. Layer Count Type etc. can be changed.)
I am able to choose, sequential length of the input data
What I Tried:
Increased & Decreased CNN Layers
Changing Filter Sizes.
Added Batch Normalization Layers between CNN's
Added Max Pooling, Average Pooling & Striding On a Sequence
Increased & Decreased Channel Sizes for CNN Layers
Used GRU's , LSTM's and RNN's for sequential Part
Increased & Decreased Hidden Dimension of Sequential Layer
Tried multiple Sequential Layers
Tried Variety of Sequence Lengths
Added Multiple FC Layer's at the end of Sequential Layer
Tried Transforming the data, "Yeo-Johnson", Logarithmic, Cubic etc.
Tried Only Sequential Layer-Based & Only CNN Based Models
Different Batch Size, Much Larger Training Set , Different Number of Epochs…
Forecasting made with model: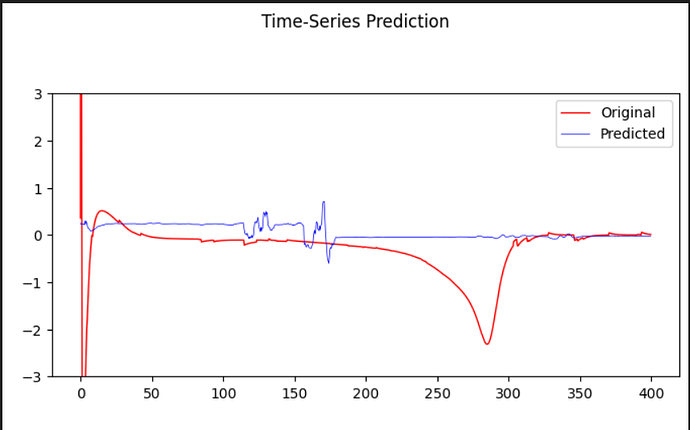 I kind of ran out of ideas at this point. Since, I am not very experienced in DL, but a long review of multiple sources, didn't help me at this point. What seems to be the problem here ? How can I approach this model ? What are the fundamental methods I can try here ?
Thank you for your time.