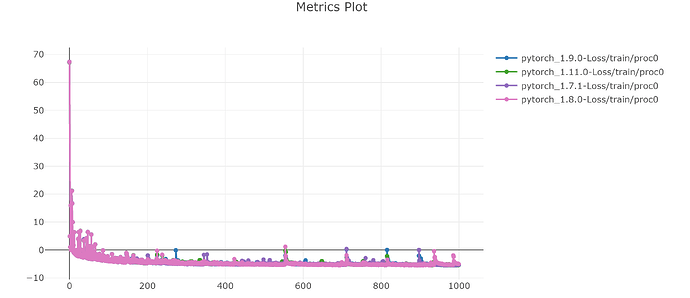 I want to upgrade pytorch version from 1.7.1 to 1.11.0.
Before do that, I want to generate same result from 1.7.1 and 1.11.0
I tested my network based on gpt2 with various pytorch version but the results are like above.
I set same random seed value (=0). But the loss graphs are slightly different.
I used same code to test and use cuda version for pytorch as 11.x (1.7.1-cuda11.0, 1.8.0&1.9.0-cuda11.1, 1.11.0-cuda11.3)
Base docker image for testing is cuda11.3-ubuntu 18.04.
I tried to find some differences between 1.7.1 and 1.11.0 but I could not find any significant differences between them…
Is there any possible solution or any advise to solve this problem?