Hi!
I have 2 of the same GPU and I want to achieve faster processing by utilizing both of them. However, I am doing this in a different way, imitating the idea of Massively Parallel Video Networks:
I have divided my model into two sub-models. I want to run them concurrently, one part processing the input video frame by frame, and the other processing the output of the first one. However, there is a catch. When the first sub-model returns an output, it passes it to the second sub-model and starts processing the next frame of the input. By utilizing both the GPUs the authors of the paper achieve faster processing. Any idea on how to do this? The figure shows the idea: (the network is unrolled over time)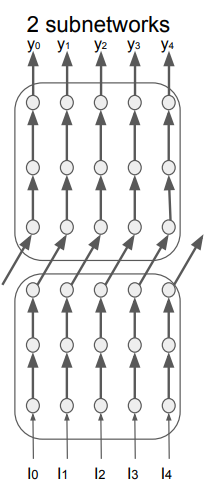 The idea is not the same as nn.DataParallel(). I have tried torch.multiprocessing, DistributedDataParallel() but I am having trouble understanding how to do this.
If anyone have some answer, I would be glad.
Thanks.