I'm trying to plot the bounding boxes of a few sample images from the VOC Dataset. The bounding boxes are in the form (x_mid, y_mid, width, height) and they are all fractional (fraction of the original image width and height).
My plot currently looks like this and I don't know why. It could be because I need to adjust the labels (since the images are being resized), but my understanding is that I don't, since they are fractions and not absolute values. But I'm not sure.
A few notes:
The csv file is a list of (img_file_name.jpg, labels_file_name.txt) entries
The labels are of the form (class, x_mid, y_mid, width, height)
There could be multiple labels / bounding boxes. My script just looks at the very first bounding box of each data point.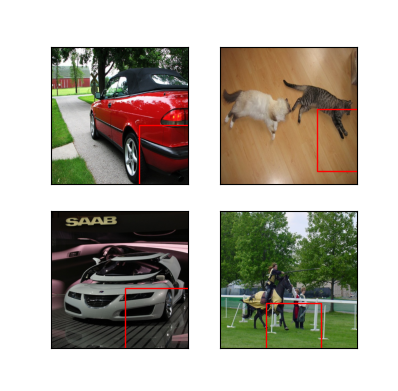 And here's the code
    import torch
    import matplotlib.pyplot as plt
    import matplotlib.patches as patches
    from torch.utils.data import Dataset, DataLoader
    from PIL import Image
    from torchvision import transforms
    import os
    import pandas as pd

    class VOCDataset(Dataset):
        """Some Information about VOCDataset"""
        def __init__(self, annotations_path, img_dir, label_dir, transforms, reshape_height, reshape_width):
            self.annotations = pd.read_csv(annotations_path)
            self.img_dir = img_dir
            self.label_dir = label_dir
            self.transforms = transforms
            self.new_height = reshape_height
            self.new_width = reshape_width
            super(VOCDataset, self).__init__()

        def __getitem__(self, index):
            img_file_name = self.annotations.iloc[index][0];
            img_file_path = os.path.join(self.img_dir, img_file_name)
            img = Image.open(img_file_path)
            # original_height, original_width = img.size
            # HEIGHT_RATIO, WIDTH_RATIO = self.new_height / original_height, self.new_width / original_width
            # print("Old shape: ", original_height, original_width)
            # print("New shape: ", self.new_height, self.new_width)
            # print(HEIGHT_RATIO, WIDTH_RATIO)
            tensor_img = self.transforms(img)

            label_file_name = self.annotations.iloc[index][1];
            label_file_path = os.path.join(self.label_dir, label_file_name)
            label = list()
            with open(label_file_path, "r") as f:
                line = f.readlines()[0]
                label = [int(float(i)) if int(float(i)) == float(i) else float(i) for i in line.split(" ")]
                # label[1] *= WIDTH_RATIO
                # label[2] *= HEIGHT_RATIO
                # label[3] *= WIDTH_RATIO
                # label[4] *= HEIGHT_RATIO
            # print(labels[0])
            return tensor_img, torch.tensor(label)

        def __len__(self):
            return len(self.annotations)

    def visualize_imgs(imgs, label, rows, cols):
        imgs = imgs.detach().numpy().transpose(0, 2, 3, 1)
        label = label.detach().numpy()
        fig = plt.figure(figsize=(5, 5))
        for i in range(imgs.shape[0]):
            ax = fig.add_subplot(rows, cols, i + 1, xticks=[], yticks=[])
            x_mid, y_mid, width, height = [448 * i for i in label[i][1:]]
            rect = patches.Rectangle((x_mid, y_mid), width, height, edgecolor='r', facecolor='none')
            ax.imshow(imgs[i])
            ax.add_patch(rect)
        plt.show()

    if __name__ == '__main__':

        IMG_DIR = "G:/dl_projects/yolov3_aladdin/PASCAL_VOC/images"
        LABEL_DIR = "G:/dl_projects/yolov3_aladdin/PASCAL_VOC/labels"
        BATCH_SIZE = 4
        NUM_WORKERS = 1
        PIN_MEMORY = False
        TRANSFORMS = transforms.Compose([
            transforms.Resize((448, 448)),
            transforms.ToTensor(),
        ])

        train_dataset = VOCDataset(
            "G:/dl_projects/yolov3_aladdin/PASCAL_VOC/8examples.csv",
            img_dir=IMG_DIR,
            label_dir=LABEL_DIR,
            transforms=TRANSFORMS,
            reshape_height=448,
            reshape_width=448
        )

        train_loader = DataLoader(
            dataset=train_dataset,
            batch_size=BATCH_SIZE,
            num_workers=NUM_WORKERS,
            pin_memory=PIN_MEMORY,
            shuffle=True,
            drop_last=True,
        )

        it = iter(train_loader)

        imgs, labels = next(it)

        visualize_imgs(imgs, labels, rows=2, cols=2)