Resnet has a 4 component: layer1, layer2, layer3, layer4.
Hypothesis one:
And I initialize the layer4 use the same parameters, just like this:
self.layer4_1 = model_resnet.layer4
self.layer4_2 = model_resnet.layer4
That means the layer4_1 and layer4_2 pointing to the same parameters, they share the same parameter. I update them alternately.
Hypothesis two:
I just define one layer4 just like this:
self.layer4 = model_resnet.layer4
And I update the layer4 two times than Hypothesis one.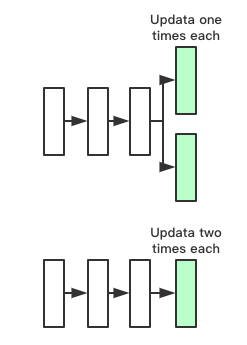 I want to ask what's the difference between the two hypothesis?Why are the model results different when the model converges?
My English is poor, if you are chinese, we can talk in chinese.
Looking forward to your reply!!