I'm working on an unsupervised segmentation pipeline which involves first learning a SLIC segmentation with the CNN.
This works as expected when all layers in the network use padding, however, for reasons specific to this pipeline, I would like to not use any padding. Without padding, it seems that the network has trouble learning the very simple SLIC segmentation (which is essentially just a k-means of the pixels in LABXY space, and should be more than learnable by the network).
Note: the input to the network is an image with RGB and XY channels.
Here's an example SLIC segmentation (the ground truth for the network):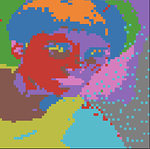 Here's an example of the network's progression with padding on:


And here's an example of the network's progression with padding off:


As you can see, with padding, the model gradually converges to the ground truth, whereas with padding off, the segmentations are much noisier and eventually collapse to just 2 classes rather than 10.
Does anyone have any idea what could be going on here?
I've tried replacing the network with both a random forest and a simple linear classifier and it works as expected, so it shouldn't be an issue of learnability/separability.
Am I encountering some weird edge case bug? Is there a difference in differentiability? Although padding offers spatial information, given that the network receives X and Y channels in addition to RGB, this shouldn't be an issue, right?
Are there experiments I could run to further debug this?